SAMA UV
RESEARCH GROUP ON FOOD AND ENVIRONMENTAL SAFETY
State-of-the-art analytical technology and services for the determination of pollutants and natural components and risk assessment
Contact
We do
The research group on Food and Environmental security (SAMA-UV) is dedicated to research in environmental and food sciences and provides cutting-edge analytical technology and services for the determination of pollutants and Natural components focusing their activities in the areas of environmental health, quality and food safety as well as in the evaluation of risks and the study of human exposure.
Environmental security
• Screening of non-regulated contaminants (emergent) and regulated in water, sediments, soil and biota. Evaluation of the spatial-temporal trend in relation to water quality. Study of the presence, transport, destination and bioavailability of emerging and priority pollutants in environmental compartments.
• Sources and transfer of emerging and persistent pollutants (POPs), bio-accumulation and biomagnification.
• Environmental risk assessment.
• Study of the behavior and fate of emerging pollutants during wastewater treatment.
• Development of environmental forensics and sewer epidemiology methods.
Quality and Food safety
• Advanced Chemical Analysis
• Characterization of quality and food safety in the framework of food legislation (finished product, raw materials, etc…).
• Foodomics: Profile and fingerprint techniques for the characterization of food, its authentication and the characterization of its origin.
Risk assessment
• Advanced Analysis
• Human diet Studies
• Integrated risk assessment.
Quantity and quality of water, sediment and soils
Preservation of natural spaces and biodiversity
Restoration of contaminated areas
Quality Control of raw materials and processed products
Authenticity and control of fraud
Analysis of organic and emergent pollutants
Detection and monitoring of sources of pollution
Identification of biomarkers and unknown compounds
Calculation of drug use and drugs of abuse in populations
Calculation of estimated daily intake (EDIs)
Calculation of exposure in different scenarios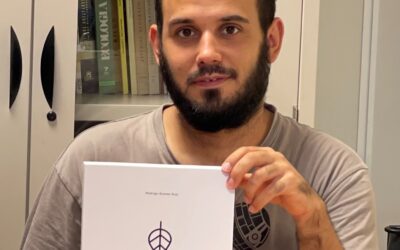 The environment suffers the continue discharge of anthropogenic contaminants. Including organic compounds, such as, pharmaceuticals and personal care products (PPCPs), pesticides, perfluoroalkyl substances (PFASs), illicit drugs and microplastics. Furthermore, some of...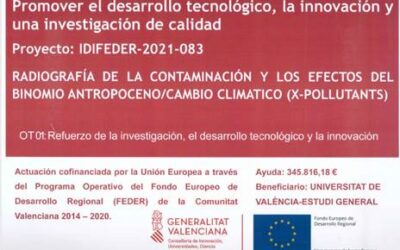 El CIDE ha sido a traves de la Universitat de Valencia y gracias a IDIFEDER/2021/083 concedido a Yolanda Picó equipado con un cromatografó líquido espectrometro de masas de alta resolución (técnologia orbitrap) y un microscopio...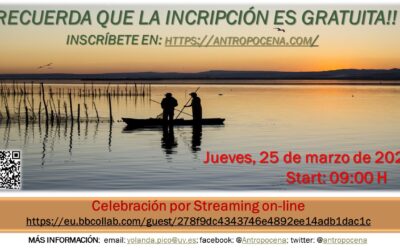 Free registration at antropocena.com | March 15, 2021 9:30 AM